by Judith Graham
"Don't resuscitate this patient; he has a living will," the nurse told Dr. Monica Williams-Murphy, handing her a document.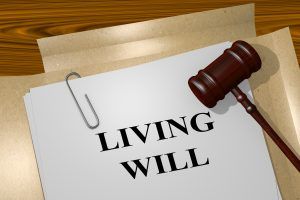 Williams-Murphy looked at the sheet bearing the signature of the unconscious 78-year-old man, who'd been rushed from a nursing home to the emergency room. "Do everything possible," it read, with a check approving cardiopulmonary resuscitation.
The nurse's mistake was based on a misguided belief that living wills automatically include "do not resuscitate" (DNR) orders. Working quickly, Williams-Murphy revived the patient, who had a urinary tract infection and recovered after a few days in the hospital.
Unfortunately, misunderstandings involving documents meant to guide end-of-life decision-making are "surprisingly common," said Williams-Murphy, medical director of advance-care planning and end-of-life education for Huntsville Hospital Health System in Alabama.
But health systems and state regulators don't systematically track mix-ups of this kind, and they receive little attention amid the push to encourage older adults to document their end-of-life preferences, experts acknowledge. As a result, information about the potential for patient harm is scarce.
A new report out of Pennsylvania, which has the nation's most robust system for monitoring patient safety events, treats mix-ups involving end-of-life documents as medical errors — a novel approach. It found that in 2016, Pennsylvania health care facilities reported nearly 100 events relating to patients' "code status" — their wish to be resuscitated or not, should their hearts stop beating and they stop breathing. In 29 cases, patients were resuscitated against their wishes. In two cases, patients weren't resuscitated despite making it clear they wanted this to happen.
The rest of the cases were "near misses" — problems caught before they had a chance to cause permanent harm.
Most likely, this is an undercount, said Regina Hoffman, executive director of the Pennsylvania Patient Safety Authority, adding that she was unaware of similar data from any other state.
Asked to describe a near miss, Hoffman, co-author of the report, said: "Perhaps I'm a patient who's come to the hospital for elective surgery and I have a DNR (do not resuscitate) order in my [medical] chart. After surgery, I develop a serious infection and a resident [physician] finds my DNR order. He assumes this means I've declined all kinds of treatment, until a colleague explains that this isn't the case."
The problem, Hoffman explained, is that doctors and nurses receive little, if any, training in understanding and interpreting living wills, DNR orders and Physician Orders for Life-Sustaining Treatment (POLST) forms, either on the job or in medical or nursing school.
Communication breakdowns and a pressure-cooker environment in emergency departments, where life-or-death decisions often have to be made within minutes, also contribute to misunderstandings, other experts said.
Research by Dr. Ferdinando Mirarchi, medical director of the department of emergency medicine at the University of Pittsburgh Medical Center Hamot in Erie, Pa., suggests that the potential for confusion surrounding end-of-life documents is widespread. In various studies, he has asked medical providers how they would respond to hypothetical situations involving patients with critical and terminal illnesses.
In one study, for instance, he described a 46-year-old woman brought to the ER with a heart attack and suddenly goes into cardiac arrest. Although she's otherwise healthy, she has a living will refusing all potentially lifesaving medical interventions. What would you do, he asked more than 700 physicians in an internet survey?
Only 43 percent of those doctors said they would intervene to save her life — a troubling figure, Mirarchi said. Since this patient didn't have a terminal condition, her living will didn't apply to the situation at hand and every physician should have been willing to offer aggressive treatment, he explained.
In another study, Mirarchi described a 70-year-old man with diabetes and cardiac disease who had a POLST form indicating he didn't want cardiopulmonary resuscitation but agreeing to a limited set of other medical interventions, including defibrillation (shocking his heart with an electrical current). Yet 75 percent of 223 emergency physicians surveyed said they wouldn't have pursued defibrillation if the patient had a cardiac arrest.
One issue here: Physicians assumed that defibrillation is part of cardiopulmonary resuscitation. That's a mistake: They're separate interventions. Another issue: Physicians are often unsure what patients really want when one part of a POLST form says "do nothing" (declining CPR) and another part says "do something" (permitting other interventions).
Mirarchi's work involves hypotheticals, not real-life situations. But it highlights significant practical confusion about end-of-life documents, said Dr. Scott Halpern, director of the Palliative and Advanced Illness Research Center at the University of Pennsylvania's Perelman School of Medicine.
Attention to these problems is important, but shouldn't be overblown, cautioned Dr. Arthur Derse, director of the center for bioethics and medical humanities at the Medical College of Wisconsin. "Are there errors of misunderstanding or miscommunication? Yes. But you're more likely to have your wishes followed with one of these documents than without one," he said.
Make sure you have ongoing discussions about your end-of-life preferences with your physician, surrogate decision-maker, if you have one, and family, especially when your health status changes, Derse advised. Without these conversations, documents can be difficult to interpret.
[partner-box] Here are some basics about end-of-life documents:
Living wills. A living will expresses your preferences for end-of-life care but is not a binding medical order. Instead, medical staff will interpret it based on the situation at hand, with input from your family and your surrogate decision-maker.
Living wills become activated only when a person is terminally ill and unconscious or in a permanent vegetative state. A terminal illness is one from which a person is not expected to recover, even with treatment — for instance, advanced metastatic cancer.
Bouts of illness that can be treated — such as an exacerbation of heart failure — are "critical" not "terminal" illness and should not activate a living will. To be activated, one or two physicians have to certify that your living will should go into effect, depending on the state where you live.
DNRs. Do-not-resuscitate orders are binding medical orders, signed by a physician. A DNR order applies specifically to cardiopulmonary resuscitation (CPR) and directs medical personnel not to administer chest compressions, usually accompanied by mouth-to-mouth resuscitation, if someone stops breathing or their heart stops beating.
The section of a living will specifying that you don't want CPR is a statement of a preference, not a DNR order.
A DNR order applies only to a person who has gone into cardiac arrest. It does not mean that this person has refused other types of medical assistance, such as mechanical ventilation, defibrillation following CPR, intubation (the insertion of a breathing tube down a patient's throat), medical tests or intravenous antibiotics, among other measures.
Even so, DNR orders are often wrongly equated with "do not treat" at all, according to a 2011 review in the Journal of General Internal Medicine.
POLST forms. A POLST form is a set of medical orders for a seriously ill or frail patient who could die within a year, signed by a physician, physician assistant or nurse practitioner.
These forms, which vary by state, are meant to be prepared after a detailed conversation about a patient's prognosis, goals and values, and the potential benefits and harms of various treatment options.
Problems have emerged with POLST's increased use. Some nursing homes are asking all patients to sign POLST forms, even those admitted for short-term rehabilitation or whose probable life expectancy exceeds a year, according to a recent article authored by Charlie Sabatino, director of the American Bar Association Commission on Law and Aging. Also, medical providers' conversations with patients can be cursory, not comprehensive, and forms often aren't updated when a patient's medical condition changes, as recommended.
"The POLST form is still relatively new and there's education that needs to be done," said Amy Vandenbroucke, executive director of the National POLST Paradigm, an organization that promotes the use of POLST forms across the U.S. In a policy statement issued last year and updated in April, it stated that completion of POLST forms should always be voluntary, made with a patient's or surrogate decision-maker's knowledge and consent, and offered only to people whose physician would not be surprised if they die within a year.