This Southern Fried Chicken is brined overnight. It is then dipped in buttermilk and seasoned flour to make it crispy, juicy and full of flavor.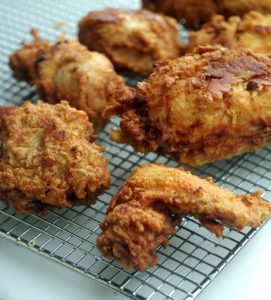 Everyone loves my homemade Fried Chicken. I was wondering why I don't make it that often. When I made this, I realized why.
It sure makes a mess! There are grease splatters everywhere. Then there is the dilemma of the leftover oil. Even with all that said, it is delicious and worth making over and over again.
I will tell you a secret about how to make the best fried chicken. It is all in the brine. Yup, you heard me you need to brine those suckers for at least 24 hours. That brine makes your chicken succulent and moist. It does not have 12 herbs and spices, but it is the lick your fingers kind of chicken that the Colonel will be proud of.
SOUTHERN FRIED CHICKEN
INGREDIENTS:
One 3-4 pound chicken cut into 10 pieces
1 quart water
1 tablespoon salt
2 cups all purpose flour
2 tablespoons lemon and pepper seasoning
4 cups buttermilk
2 tablespoons chipolte in adobo
Peanut oil for frying
DIRECTIONS:
Put the chicken pieces in a large bowl. Add water to the bowl to cover it by an inch. Add a tablespoon of salt per quart of water. Refrigerate at least 2 hours, although overnight is best.
In a shallow platter combine the flour with the lemon pepper until well blended. Set aside
In another platter combine the buttermilk and the adobo. Set aside.
Drain the chicken and pat dry. Dredge the pieces in the buttermilk and then the seasoned flour. Let the chicken rest while you heat up the oil.
Fill a 12 inch skillet halfway with peanut oil. Using a thermometer heat oil until it registers 350-365. Working in batches if necessary carefully add the chicken to the pot and fry turning once until golden brown and cooked through. This should take about 12 minutes.
Remove the chicken and place on a brown paper bag or paper towels to soak up all the oil. Sprinkle with salt and pepper.
Serve hot.
Peace be with you,
Veronica