Today, January 15th, is the feast day of Saint Paul the hermit. This is a sweet and delicate Oatmeal Bread topped with rolled oats and naturally sweetened with agave.
Saint Paul was the first hermit. This saint left the comfort of home to enter and stay in the desert to contemplate and pray. He did this during a very difficult time in christian history. Hermits like Saint Paul set the stage for the rise of religious orders in the Catholic Church. One of the legends about Saint Paul the hermit was the day Saint Anthony who was 90 at the time came to visit him. Even though Saint Anthony hadn't previously met this hermit, he know exactly who he was.
While they were conversing, a raven brought the hermit a loaf of bread and few away. Paul said, "See, the lord, who is truly good and merciful, has sent us food. Everyday for sixty years I have received half a loaf, but with your arrival Christ has sent a double ration." Giving thanks they ate the bread.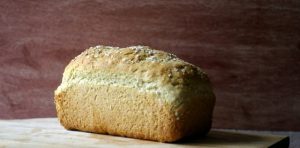 AGAVE OATMEAL SOUR DOUGH BREAD
INGREDIENTS:
1/2 cups sour dough starter
1 cup warm milk
2 tablespoons melted butter cooled slightly
1 medium egg beaten
3 tablespoons agave
1 tablespoon salt
1 1/2 cups rolled oats
3 cups all purpose
DIRECTIONS:
Combine starter, milk, butter egg and agave in your stand mixer using the paddle attachment. Let set in mixer while you measure and combine in another bowl the salt, oats and flour. Add your dry ingredients to your wet until dough comes together. Cover bowl with plastic wrap and allow to rise in mixer bowl for 2 hours. Punch down and put back on stand this time incert the dough hook and kneed until no longer sticky adding more flour if needed about 5 minutes. Divide dough into two equal pieces and put in prepared bread pans. Allow bread to rise again about 2 hours.
Bake bread in a 375 degree oven for about 45 minutes.
Allow to rest about 15 minutes before slicing.
Peace be with you,
Veronica