By Your Life Podcast
We all have encountered situations at work where another person is behaving badly, and we get so frustrated that we just don't want to deal with them anymore. While the easy way out may be to avoid or ignore them, it may not be the merciful thing to do. In this week's episode of By Your Life, we'll talk about how we are called to be merciful, even in the marketplace.
Dwight Eisenhower said, "Plans are worthless, but planning is everything." That is because planning is not an event. It is a process. Once you put a plan in motion, you will be changing it.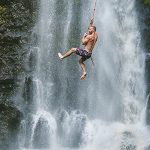 When we think about how we conduct our business affairs, somehow, humility is not considered, or at least taught, as an essential trait required for business success. Is humility essential? Can humility be taught? We'll tackle these questions in this episode of By Your Life.
The inspirational author William Arthur Ward said, "The price of excellence is discipline. The cost of mediocrity is disappointment.", and if you're honest, you'll admit he is right. In this edition of By Your Life, we discuss the importance and the difficulty of the practice of discipline – both in disciplining others and ourselves.
Any CEO who wants to cultivate culture needs to be bold and passionate and expect to get some backlash. Not everyone will come onboard and some will even try to undermine the transformation. In this week's episode of By Your Life, we talk about how you cannot be timid if you want to accomplish big change.
All innovation begins with an idea and is followed by the belief that it is possible. It is faith that fuels the journey from concept, past numerous obstacles, to completion. In this edition of By Your Life, we'll discuss not only our earthly journey, but the one to our heavenly homeland.
A lot is written and talked about the differences between the generations. And there are differences between Boomers, Gen Xers, Gen Ys and the up-and-coming Gen Zs. But across generations, from the third century BC until now, we find that humanity shares a lot in common. In this episode of By Your Life, I talk about how people have a never-ending and unsatisfying quest for stuff…and what to do about it.
Companies that create winning cultures will commonly recite their core values constantly and consistently. But just saying the words and honoring them are two different things. In this edition of By Your Life, we'll explore how we can benefit by honoring the words of the Lord's Prayer at work.