I have been friends with the Greco family for many years. I went to high school with Christine Greco Anderson. We are pretty good friends. We are such good friends that I named my daughter Christine after her. The Greco family had a tradition of singing Happy Birthday to Jesus on Christmas day.
Mrs. Greco (Irene) did this each Christmas. They would make a cake, I dont think it mattered what kind of cake it was. The kids always seemed at hand to help put the sprinkles on it. They would put an assortment of candles on the cake, and everyone would sing happy birthday to Jesus and blow out the candles.
Now her grandchildren do the same thing.
When I saw them doing this for the first time, I thought what a great idea to explain to the little ones what the Christmas season is all about. It has been years since I spent a christmas with the Greco's but, each year, Chrissee sings Happy Birthday to baby Jesus and blows out the candles. It is now our tradition.
No matter how old my daughter gets, she still enjoys helping me make the Jesus cake. She also loves licking the spoon. I think that is universal for all kids.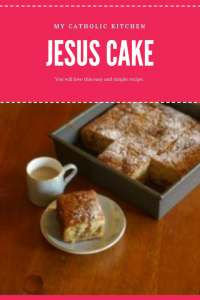 INGREDIENTS:
1 box yellow cake mix
1 cup sour cream
4 eggs
3/4 cup vegetable oil
1 cup brown sugar
2 teaspoons apple pie spice or cinnamon
1/4 cup honey
2 tablespoons milk
2 teaspoons vanilla
2 cups powdered sugar
DIRECTIONS:
Preheat oven to 350 degrees.
In a large mixing bowl combine cake mix, sour cream, eggs and oil. Mix on medium speed until smooth. Pour half the batter into a prepared 9×13 inch pan. In a small bowl combine brown sugar and apple pie spice. Sprinkle mixture over the batter. Then pour the honey over the batter. Pour the remaining batter over the pan. Using a skewer or knife swirl the filling into the batter.
Bake for 45-50 minutes or until a toothpick inserted in the center comes out clean.
To make the glaze just stir together the milk, vanilla and sugar until there are no lumps.
Pour over warm cake.
Allow to cool and then place candles on cake to sing happy birthday to Jesus.
Peace be with you,
Veronica