It happened in the blink of an eye… or at least that's how it felt. One moment, I was her eldest daughter and the next I was one of Mom's battalion of caregivers.
In reality, I probably should have been better prepared. When Mom was diagnosed with Parkinson's disease several years ago, I read up on the physical impact her illness would take upon her body. Unfortunately, I wasn't as well informed about the toll that years of treatment, medication and the passage of time would take on her mental capacity. At 78, Mom was still in relatively good health and still active when the worst happened this Spring. After a series of frightening mental illness hospitalizations, too many ambulance rides to count, lots of prescriptions and appointments later, Mom is now settling into a Memory Care facility where she can receive the best possible care and be kept safe.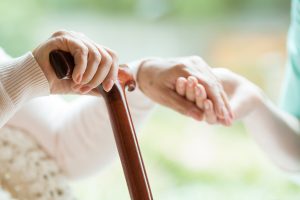 Since I live in Los Angeles and Mom and Dad now make their home in Mississippi, I've begun regular monthly trips to see them. My months are subdivided between my work, time with my amazingly patient husband, and trips South to help with doctors' appointments and to simply spend time with Mom and Daddy. I've had a compelling sense of not "doing enough" since all this began. I'm not Mom's "full time caregiver". But my sense is that if you give care of any kind, you feel the residual stress and anxiety associated with seeing to someone else's wellbeing.
Mary did not give God a checklist or a deadline when she gave her "Yes"
Several years ago, I had the great joy of penning a book called The Grace of Yes: Eight Virtues for Generous Living. In the book, I wrote about how each of us is called to live out our own version of Mary's "fiat", her "Yes" to God's will. In the midst of Mom's ongoing needs, I'm very cognizant that walking alongside my parents, even from afar, is a "Yes" moment. As a Type A personality, it's been a great challenge to me that I cannot make a to-do list, tick off a series of tasks, and "fix" this problem. This "Yes" doesn't have an expiration date. My "Yes" to God requires something I'm still learning to give: trust.
As I've pondered in my daily prayer time, Mary did not give God a checklist or a deadline when she gave her "Yes". As we read in Luke's gospel, when the angel came to her—an unmarried teen in Nazareth—with the remarkable news that she would be the mother of our Savior, she gave her simple assent. Mary said, "Behold, I am the handmaid of the Lord. May it be done to me according to your word."
As I begin writing in this forum, I hope to share a bit of our family's journey with you to support you in whatever "Yes" you are called to give in your life. We may not feel up to the challenges that confront us. But we must never forget that this is not a path we walk alone. Since facing my Mom's new situation and acknowledging it as a part of my "Yes", I've recognized that I cannot fix this problem. I can simply love and trust.
Every time you smile at someone, it is an action of love, a gift to that person, a beautiful thing.
St. Teresa of Kolkata, a heroine of "Yes", once said, "Every time you smile at someone, it is an action of love, a gift to that person, a beautiful thing." For today, I will offer Mom my smile with love, acknowledging this tiny token as a part of my fiat. I will recognize that even in my desire to "do more", the gift of my physical and emotional presence and my prayers for Mom are the best that I can give. And I will endeavor to trust in the providence of God's will.
*A question to ponder: To what "Yes" are you being called in this season of your life? Have you acknowledged this challenge as a part of your personal "fiat"?