TIME TO TRAVEL
AMERICA WEST'S SENIOR DISCOUNTS: SOME HOT, SOME HOT By Molly Feltner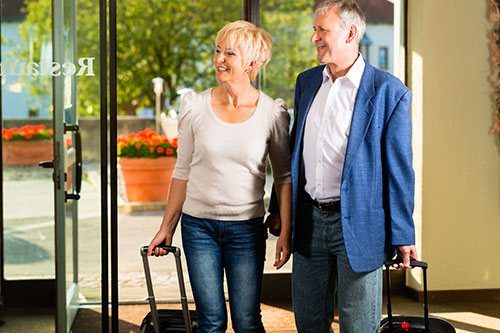 With the options for discounted senior fares getting smaller as more carriers downsize or discontinue their senior-discount programs, we decided to put America West's senior program – one of the few relatively unchanged programs in the industry – to the test. America West offers seniors ages 62 and over two discount options: a 10-percent discount off regular fares and the "Senior Saver Pack," a coupon book costing $750 that includes four vouchers for one-way travel.

Find out which option can help you save, and which could cost you more than you bargained for by reading the results of our tests below.
10-percent senior discount
The 10-percent senior discount applies to travel in all America West markets and in all classes of service, including first-class. This discount can be applied to multiple fare types, but certain promotional fares are excluded. Fares can be booked over the phone or online, which makes comparing and booking fares easy. And, one companion of any age may travel on the same itinerary using the same discounted fare.

To see how easily we could find the senior discount, we researched fares on four domestic and two international routes for both coach and first-class seating. In all cases, we found no senior discount available on domestic coach fares. However, both international routes and all first-class travel delivered the promised 10-percent senior discount.

From the results of our test, it appears that you're most likely to find the senior discount on international and first-class flights. While most customers flying America West travel domestically in coach, seniors who are looking for a break from economy seating may find the discount on the airline's already low first-class fares to be an attractive offer. Because fares with the senior discount can be found easily online and don't require you to buy vouchers or join a paid membership club, we'd recommend searching for the discount whenever you plan to fly America West – you may just turn up a good deal. No matter what, always compare all any-age fares to make sure that you're getting the best price.

The senior discount is subject to availability and all the terms and restrictions that apply to the fare type purchased. Learn more about this discount by visiting the airline's senior program page.

Search for discounted fares using America West's regular online booking engine. Just be sure to select "Senior" under the "Number of Passengers" heading. You can also call 800-235-9292. You must present identification showing proof of age at check-in.
Senior Saver Pack
America West also offers seniors a coupon book that includes vouchers for four one-way flights. Packs cost $750 each, breaking down to $187.50 for each one-way journey or $375 per round trip. Vouchers may be used to cover the cost of domestic coach fares or coach fares from the U.S. to Canada or Mexico, but not the applicable taxes and fees. Up to two children ages two to 11 may use a voucher when traveling with you. No other companions are eligible.
Chances are, very few seniors will find these coupons useful given that most America West coach fares are priced well under $375 round-trip before taxes and that the coupons cannot be used for first-class travel or flights to Costa Rica. In fact, after checking fares on many routes, we were only able to find one eligible route where you could save money using senior vouchers: Anchorage, AK, to Puerto Vallarta, Mexico ($572 round-trip). Plus, vouchers are subject to numerous black-out dates and are only good for one year after the date of purchase, and your flights can only be reserved over the phone at least 14 days in advance. Still, if you'd like to learn more, you can find more details on the America West website.